"The future belongs to those who believe in the beauty of their dreams."
Eleanor Roosevelt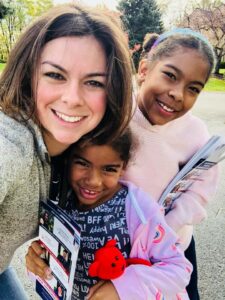 Exhaustion. We hear that word a lot these days from people who are tired of arguments, politics, trying to eat right or after a long workout. And even if our co-worker Katelyn admits to feeling exhaustion, it's just a passing moment, because she is going right back to putting her efforts into making exceptional things happen. Even if it means a lack of sleep, time and food!
Long before this election, Katelyn proved to herself and many people that once she had a plan, she was going to get results.  She first set her sights on working for a solar company before it was a hot topic in Syracuse. A year later she aced all the classes she needed to become one of the youngest financial advisors who specialized in socially responsible investing. Her voice was getting attention locally and at national conferences. Her enthusiasm for our community emboldened her to create The Sustainable Economies Alliance. Katelyn invited many forward-thinking organizations to join up and discuss ways to remind residents that small choices, like where someone banks, can make a difference in the local economy. The Alliance continues to grow and members include The Community Foundation and Cooperative Federal. She did all of these things because she had an idea, built a team and put her plan into action. Katelyn doesn't wait for things to happen; she makes them happen by sheer force of will.
When Katelyn came to us with the idea of running for the Manlius Town Board, we all thought, where will she find the time?  She already was a busy mom with a growing list of clients and her new not for profit was relying on her to carry out the team's vision.  Over the course of the last few months, I have seen her make time for knocking on doors in the cold and rain, appearing at town board meetings and engaging with her children, friends, and family in the process of running for office.
Katelyn will take her experience of talking to the residents of the town at their doorstep and bring those conversations into the halls of government. Expect to hear more about how sustainable energy can create jobs, how cooperation between organizations can create a healthier planet and how teaching our children to be financially aware of how they spend their dollars can contribute to the health of small businesses in our area.  We know Katelyn's spirit will not only engage with town residents; she will also prove that she is a force that can get things done.
We couldn't be prouder of Katelyn. And we know the Town of Manlius residents will welcome her excitement and passion for their town.